The place to hang out with family - All year round!
Happy Hollow Club continues to meet the high standards of Midwest members with its new family-focused Activity Center.

The Activity Center officially opened its doors on August 29, 2020. The new center boast a one-stop-shop for all our activities at the club including a new tennis dome, a multipurpose sport court, a deluxe fitness and cardio space, full-service tennis and fitness pro shop, golf training with High Definition golf simulators, and family-friendly casual dining with indoor and outdoor spaces.

"Together with the recent renovation of our Lower Golf practice facilities, we are confident that the new first-class amenities found in the Activity Center will cement our standing as one of the premier private clubs in the Midwest."
~ Dave Schneider, PGA, CCM Happy Hollow Club General Manager
Get your PLAY ON!
Our youngest members were at the forefront of our planning process for this amazing Sport Court space. From larger than life chess and checkers to volleyball, ping pong, foursquare, and basketball, kid-friendly activities can be found at every turn. The possibilities for fun are endless!


Our Tennis, Golf and Aquatics Departments offer clinics, camps and lessons for Juniors as well. As you can see, here at Happy Hollow Club we want children to be part of the complete member experience.
The Baseline - Tennis & Fitness Pro Shop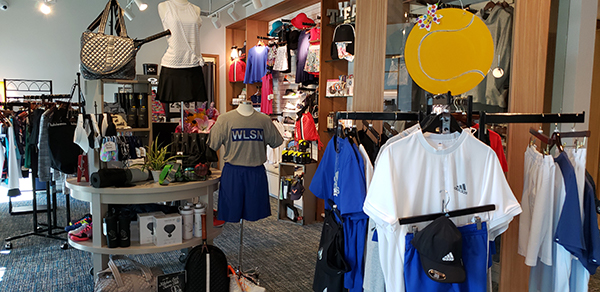 Enter our beautiful Tennis and Fitness Pro Shop, and you will find apparel and accessories from top brands such as Nike, Adidas, Wilson, Lululemon, Under Armour, and much more. The Baseline is always stocked with the best gear for your game or fitness needs.


Need to replace a broken racquet or worn-out shoes? We are the place to go! We can even restring your racquets for you while you shop!
Expanding past the fairways into fitness!
As one of the Midwest's premier Country Clubs, you will now have everything you need to lead a fit, healthy lifestyle - in our amazing new Fitness Studio and Wellness Center.


Our studio is set up to be an intimate and highly personalized space, with its beautiful wood floors, Pilates bars and refined sound system. This is combined with a wide style of classes to provide a community environment to help you become successful in achieving your goals to lead a healthier, happier lifestyle.


EQUIPMENT: Our gym features all the latest in State-of-the-Art fitness equipment from Precor USA and houses a full array of cardio and strength equipment from treadmills to ellipticals, battle ropes and bikes, we have what you need to become the best version of you.
Take your GAME to the next level!
Our HD Golf Simulator Room will instantly transport you to the world's greatest courses. No matter the weather, you can keep up and even improve your game, with in-depth shot analysis and instruction tools.


With amazing realistic game options you can kick a football into the End-Zone, practice your soccer tricks or baseball swings. You can even try your hand at throwing volleyballs at Zombies, Duck Hunting or shooting Alien monsters!


The studio also features a putting green to practice your putting skills.
1907 Langford's
Family-Friendly Casual Dining
1907 is the year Happy Hollow Club was incorporated and opened its doors for the first time. The name is also partly dedicated to the legendary golf course designer William Langford, who along with Moreau, originally designed our course in 1924. We combined the two for the official name of 1907 Langford's.


This amazing indoor space is outfitted with 8 taps, 13 spots at the bar, 5 TV's, 4 booths, multiple tables, and bifold doors to enjoy the beautiful spring, summer, and fall weather in Nebraska!
The patio and firepit areas are perfect for lounging and gathering with friends and family while enjoying your favorite drink or appetizer.


The menu features delicious casual dining options paired with incredible quality, good prices, and a focus on fast - yet efficient service and delivery.